The UCLA Volunteer Center's inaugural event, UCLA Volunteer Day, has become a cornerstone of the UCLA experience. It is one of the university's largest community service events and occurs during True Bruin Welcome.
New freshmen and transfer students join together with continuing undergraduates, graduate students, faculty, staff, alumni, parents, and community members to participate in a wide range of community service projects across Los Angeles and the globe. Volunteers participate at 50+ community partner sites providing critical service work, beautification, and support at food banks, parks, shelters, senior centers, schools, veterans' facilities, and various other community organizations. For some Bruins, this is their first experience in the city of Los Angeles and/or their first time engaging in community service.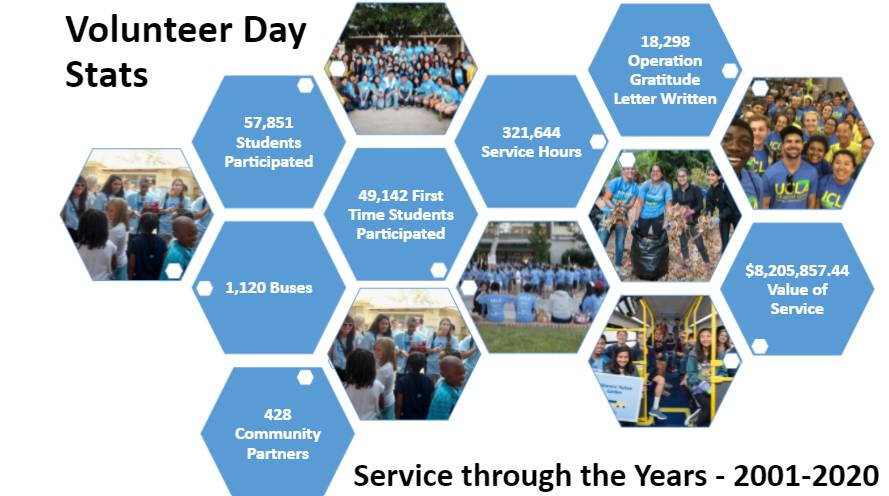 Volunteer Day Projects 2021
Hunger
On Campus
Site 4
Other
Site 6
Outdoor
Site 7
Veterans
Site 8
Service Is What We Do
On September 25, 2021, the Volunteer Center will celebrate the 13th annual Volunteer Day.
FAQs
How do I register to volunteer? 
Registration is required for all volunteers. Sign up to volunteer for a specific site in your area by navigating to the "Register" page. Registered volunteers will receive additional email information about their project in September. 
When can I register for volunteer? 
Registration for Volunteer Day 2021 will open shortly.
Where will volunteers serve on Volunteer Day? 
On Volunteer Day 2021, Bruins will provide service in-person and virtually with our community partners, including but not limited to causes related to hunger, homelessness, support of children, and support of senior citizens. Learn more about the projects and volunteer assignments at the register section. 
Who can participate in UCLA Volunteer Day? 
UCLA Volunteer Day general volunteer roles are open to all members of the UCLA community which includes all students, staff, alumni, faculty, retirees, family and UCLA community members.
Will there be a UCLA Volunteer Day waiver? 
Yes, waivers will be required for all in-person events 
What should volunteers wear and bring on Volunteer Day? 
We encourage all of our volunteers to wear blue and gold or UCLA gear.
How can volunteers get involved in service after Volunteer Day?                         
Can I donate to Volunteer Day or the UCLA Volunteer Center? 
Help support the Volunteer Center and Volunteer Day by giving to UCLA.  If you are interested donating, please give at giving.ucla.edu
Who should I contact for any specific questions related to Volunteer Day?   
Volunteer Day Sponsors