Location: 750 E 49th St Los Angeles CA 90011
Duration: Multiple Days
First Day : Oct 8, 2016
Last Day: May 13, 2017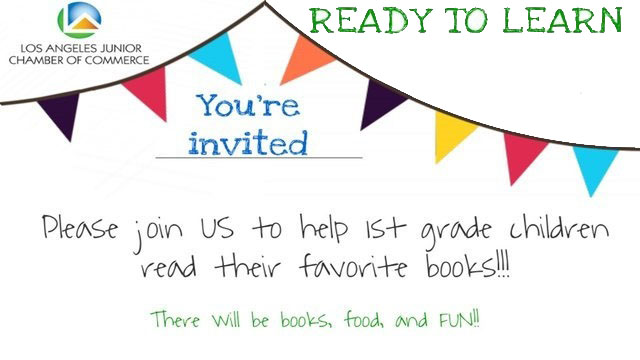 Ready to Learn (RTL) is a Los Angeles Junior Chamber of Commerce (LAJCC) Member Project. We are committed to building a love of reading with mentored reading and art projects with first grade students. For more than five years, LA Junior Chamber of Commerce members have helped first grade students from low performing LAUSD Title 1 schools to improve their reading and English language abilities.
Volunteers with the Ready to Learn program spend their Saturday mornings listening to first graders read to them and helping the students as needed. They also help the first graders with an art project related to their reading. Reading and language skills are essential for academic success and Ready to Learn helps children develop an enthusiasm for reading by making it fun.
Sign up today and make a positive impact on the futures of the children at 49th Street Elementary School!
– Email us: rtl.lajcc@gmail.com
– Visit our website:
http://rtllajcc.wixsite.com/readytolearn
– RSVP to volunteer on Eventbrite:
https://www.eventbrite.com/o/los-angeles-junior-chamber-of-commerce-ready-to-learn-8474507186
– Contribute to our Crowd Rise:
https://www.crowdrise.com/lajcc–readytolearn/fundraiser/lajcc-readytolearn
– Find us on Volunteer Match:
http://tinyurl.com/volunteermatch-readytolearn
Time Details
Reading Session Dates for the 2016-2017 Academic Year
Oct 8, 2016
Nov 5, 2016
Dec 10, 2016
Jan 14, 2017
Feb 11, 2017
Mar 11, 2017
Apr 22, 2017
May 13, 2017

Time: 10:00am - 1:00pm

Location: 49th Street Elementary School: 750 E 49th St Los Angeles, CA 90011
Tags:
education
,
tutoring
,
at-risk youth
,
youth
,
reading
Contact Person: Eileen Ung
Contact Email: rtl.lajcc@gmail.com
Contact Phone Number:
Organization: Los Angeles Junior Chamber of Commerce - Ready to Learn